| | |
| --- | --- |
| Issue: | Issue 6, October 2000 |
| Section: | Articles |
| Author: | Foddy |
The Bristol 2000 Mudmeet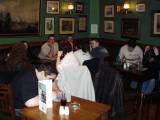 The meet under way
Welcome to Bristol! On Saturday the 16th of September this year, we all got together in Bristol City Centre at the Old Fish Market pub. I think it's fair to say that everyone had a good time, but just to prove it here are the photos! As usual, click on the pictures to see larger versions of them.



Richard
Not only do we have photos this time, but we also have some sound-bytes from the day! Click on the little speaker icons below the photos to hear people speak. Also check out Karya's Article to listen to some of the longer recordings ... you'll be amazed at what was said!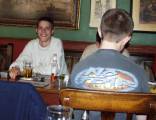 Cloud with his new haircut
When we arrived (fashionably late) a number of the players had already arrived, including Richard who brought some new mouse mats with him, much to the delight of everyone. This was particulary useful to those of us who had worn our our old ones!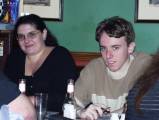 Poledra & Dclxvi
Having re-aquainted ourselves with the old faces and greeted the new faces, we soon settled in and started chatting about all things MUD (and many things non-MUD!)


Reverence, be scared!
To help jog our minds when it came to writing up the meet, I had brought with me a digital camera (see the photos at sides of this page) but Karya had gone one step further and brought a tape recorder with her - This naturally led to much hilarity!



Dclxvi taking a nap
Reverence was one player who got an extra-special welcome. Attending his first Mudmeet, he apparently had "no fear" on his shirt, but fear written across his face!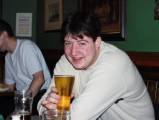 Boggy, with the one he loves
Dclxvi (I now know that his name is pronounced D C L X V I, not Ducklesexvee as I first thought) also made his first appearance. Hopefully we didn't put him off from making another!


Look! It's Belgarion
As is often the case when beer is involved, there was a fairly large contingent from the Wiz community, not only from Wireplay, but also Grumpy from mud2.com. The full list of wizzes was (in alphabetical order) Antman, Azzuri, Boggy, Foddy, Grumpy, Karya, Reverence, and last (but by no means least, Richard.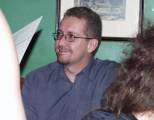 Marlight
On the mortal side were Astral, Belgarion, Ciara, Cloud, Dclxvi, Foz, Fruitbat, Jincks, Louhi, Marlight, Poledra, Tilnoom (with Andy,) Tom and Zordell. Not a bad turn-out!



Grumpy
For some reason, Antman appeared to be a lot more tired than the rest of us. He seemed to spend half the evening sleeping on the bench in the corner. The pressures of being a wiz, no doubt! Naturally, we took full advantage of his unfortunate condition.


Ciara
At about 8pm, some of us decided that it was time we were should get something more substantial to eat than that which was available from the pub. (It was a very nice pub, but didn't satisfy an arch-apetite!) We headed off to a nearby Dutch pancake restaraunt. Some people had sweet pancakes, some people had savoury ones ... and some people left to find a fish'n'chip shop.


Azzuri and Boggy
torturing Antman
At about 9.30 we left the restaraunt, full of pancake. Naturally we returned to the pub. The rest of the group (the hardened drinkers and fish'n'chip fans) were still there as if we'd never left them.


Dclxvi and Boggy
torturing Antman
At this point, I'm afraid my memory of the evening goes a little hazy. I'm not entirely sure why, but all I can imagine is that perhaps the cheese in my pancake was a little off.


Ciara and Fruitbat
I do remember Turrican making a surprise appearance, and then vanishing almost as fast as he came ... much to Jincks's horror ... and I remember something about some dodgy cult called EQ. Oh well! I'm sure some of it will come back when we listen to those tapes ...



Louhi and Antman
I also vaguely remember arm-wrestling Reverence. I can't remember who won now, but I do know I wasn't the only person he challenged that night. I was just glad he didn't have his longsword with him!



Marlight
At 11pm, last orders were called and we were asked to be on our way. It had been a lovely night and it would be impossible to capture the atmosphere here. The cider drunk, the gossip exchanged, the humour laughed at, we merrily went our ways.


Andy and Ciara
Astral and Dclxvi left together, Astral promising to find Dclxvi somewhere to sleep (as he hadn't managed to organise himself anywhere) ... but more of that later!


Reverence
The night was fine as we left for our hotel, pausing briefly to exchange phone numbers.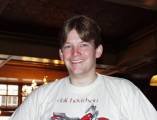 Foddy
***

Marlight, Poledra,
Louhi & Boggy
Sunday, we woke up bright and fresh ... it was a good thing we'd stayed sober the night before. At least I can't remember getting drunk ... not that I can remember staying sober of course.



Foz
After a leisurely breakfast, those of us left in Bristol met up at Tom and Ciara's house. (After buying a map ... centre of Bristol, indeed!) We arrived to find a mixture of sloth and gamesplay.


Err, a Wireplay Advert
Louhi was busy writing posts on the Gameplay forums (about the meet, perhaps?) Tom was playing some insignificant little game in his broom cupboard. A couple of the others were playing console games while the others watched on.


Reverence!
... apart from Reverence, of course. Who was fast asleep!


Richard, pointing.
We all wandered off to a local pub at about lunchtime (which was about 15 minutes after we arrived - did I mention a leisurely breakfast?) and had a roast lunch. A large quantity of non-alcoholic drinks was consumed!

Fruitbat
After lunch we finally bid each other farewell and trundled off home.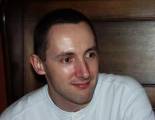 Tom
Special thanks go to Jincks for organising the meet and to Richard for bringing both the mousemats and himself. But thanks also go to absolutely everyone who attended. To those of you who couldn't make it this time, the next mudmeet will be in Manchester. Keep an eye out for announcements in MUD and on the Gameplay pages.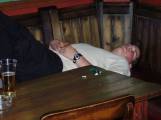 Antman, aspleep
I hope you enjoyed this meet report. There were a lot more photos than I could write for, so they continue on down the page. They're all in chronological order, so you can follow the weekend through from top to bottom.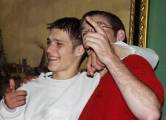 Cloud and Belgarion,
also pointing
See you all in Manchester,
Foddy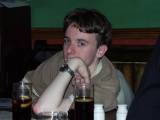 Dclxvi, looking tired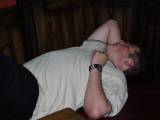 Antman, still sleeping


Cloud & Zordell

Boggy

Jincks &

Tilnoom

Astral, taking photos
Boggy, sulking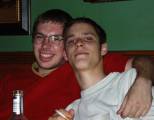 Belgarion and Cloud!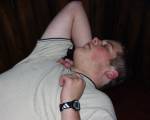 Antman, dead to the world

Fruitbat, once more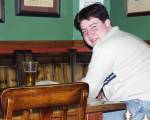 Boggy, waking Antman up
Louhi, Antman & Boggy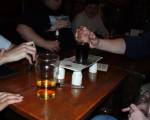 Don't ask me!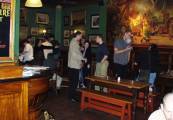 Leaving for
the restaraunt ...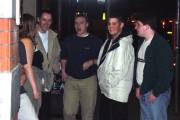 On the way ...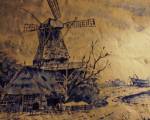 The dutch restaraunt (really!)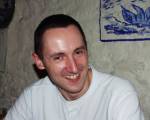 Tom, waiting for his pancake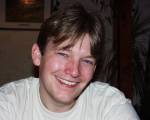 Foddy, also waiting

Our candle

Louhi, with her rose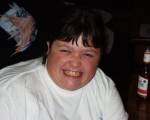 Jincks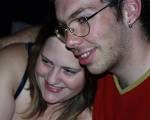 Louhi & Belgarion

Belgarion with what appears
to be Louhi's rose!

Astral

Grumpy & Astral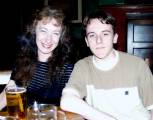 Astral & Dclxvi

Foddy & Karya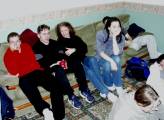 The day after the night before

Tom playing ... something
other than MUD!

Reverence, very very tired.
...
click here
to return to the category list.
... or
click here
to go to the front page of this issue.