| | |
| --- | --- |
| Issue: | Issue 16, June 2002 |
| Section: | Articles |
| Author: | Foddy |
Colchester 2002 - Photos from the Mudmeet
We headed off to Colchester - the home of MUD2 - in April this year. Below are a few of the photos we took. As usual, you can click on them to see larger versions of them.
See Hawumph's report for the the juicy details.
Have fun, and see you at the next meet!
Foddy

Hawumph (and dragon)

Vulnax ... what a guy!
Karya, exposing her
purple hair
Pippin (pre-pizza)

Pippin, with pizza. (Unfortunately,
the extreme heat from the pizza
has distorted this picture!)

Richard, surprised by the camera
Richard, in his "you will regret pointing
that camera at me" pose
Also in Colchester, a
castle (the jewel in the crown!)

Karya at the castle, this
time with face visible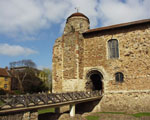 Leaving Colchester ...